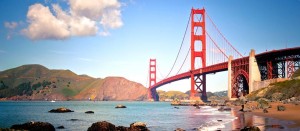 Mig 2016 is co-located withe the AIIDE http://www.aiide.org/ conference, in the San Franciso area, close to the airport at:
Embassy Suites by Hilton San Francisco Airport – Waterfront
150 Anza Boulevard
Burlingame, California  94010 USA
Telephone: +1-650-342-4600

AAAI has reserved a block of rooms at the conference hotel, the Embassy Suites by Hilton San Francisco Airport Waterfront, at reduced conference rates. Space is limited so be sure to reserve well in advance of the cut-off date of September 9.


Group Discount Online Reservation Link: http://group.embassysuites.com/AIIDE
For immediate assistance related to reservations or guest services, please call the main hotel line 24/7 at 650-342-4600
Refer to group name "AAI" when making phone reservations.


Accommodations: All rooms are two-room suites (100% smoke free) that have a private bedroom with one king or two double beds, separate living room with sofa bed and well-lit dining/work table, wet bar, microwave, coffeemaker and refrigerator, spa-like bath products, two telephones with voicemail, and two 32″ flat screen LCD TVs in every suite.

Included in the room rate: Complimentary cooked-to-order breakfast each morning, evening reception with snacks and beverages, and complimentary shuttle service provided to/from San Francisco Airport. Free transportation is also provided to local shopping, dining, and entertainment in nearby Burlingame. Complimentary WiFi is also included in the group sleeping room rate.

Additionally, daily self-parking fees have also been waived for AIIDE-16 attendees.

Conference Rates available: Friday, October 7 – Wednesday, October 12, 2016
Group rates will be extended 3 days pre/post of the above dates based on availability at time of individual reservation.
Single/Double Occupancy per night: $179.00
Check-in time: 3:00 pm
Check-out time: 12:00 pm
Cut-off date for conference rate reservations: 5:00 PM local hotel time (PDT), Friday, September 9, 2016

Rates are quoted for single/double occupancy and are exclusive of applicable state and local taxes, fees, assessments plus additional $20 per extra person charges which will be applied if applicable. The current sales tax rate is 9%, and the hotel occupancy tax rate is 12.6%.

To confirm a sleeping room within the group block, the room must be secured with a valid credit card along with a first night's deposit refundable up to 3 days in advance of the event date. Checks and major credit cards are acceptable to establish prepayment. All credit cards used to prepay the room deposit will be charged immediately.


Additional Hotel Information
Located on San Francisco Bay, the newly renovated Embassy Suites San Francisco Airport – Waterfront hotel features stunning bay views and Spanish-style architecture. Enjoy waterfront jogging or a more leisurely pace on the walking trails, all accessible from the hotel. Conveniently located close to SFO airport, the hotel offers guests beautifully refreshed rooms and revitalized common areas.

This all-suite hotel offers spacious accommodations with a living room and separate bedroom. Each suite includes amenities such as WiFi and a 32-inch flat-screen TV as well as an in-room coffeemaker, refrigerator, microwave and wet bar.

Start the day with a complimentary cooked-to-order breakfast and end it with drinks and snacks at the evening reception. The free shuttle service will take you to San Francisco Airport (SFO), which is only two miles from the hotel in Burlingame. Plan a downtown excursion to San Francisco from the Bay Area Rapid Transit (BART) station. Enjoy the sights and entertainment in downtown San Francisco such as the AT&T Park for a Giants' game, Union Square for shopping, Golden Gate Bridge, Fisherman's Wharf and Chinatown.



Airports / Transportation
San Francisco International Airport (SFO) – 2 miles from hotel
http://www.flysfo.com/
Complimentary Hotel Airport Shuttle to & from SFO runs every 20 minutes from 4:00 AM to 11:40 PM.

Metropolitan Oakland International (OAK) – 26 miles from hotel
http://airport-oakland.com/Transportation.cfm
San Jose International Airport (SJC) – 30 miles from hotel
http://www.flysanjose.com/fl/travelers.php?page=ground_trans/gt_overview&exp=3

Bay Area Rapid Transit (BART)
http://www.bart.gov/
The airport is just 5 minutes away, as well as BART station that is available to transport you to the vibrant attractions, restaurants, and sporting events in San Francisco.

Caltrain
http://www.caltrain.com/
Caltrain connects you to transit that provides an easy connection to international airports in San Jose, San Francisco and Oakland.
Transportation across the Peninsula.


Disclaimer
In offering the Embassy Suites by Hilton San Francisco Airport Waterfront, the San Francisco International Airport, San Jose International Airport, Oakland International Airport, BART, Caltrain, and all other service providers (hereinafter referred to as "Supplier(s)" for the Twelfth Annual AAAI Conference on Artificial Intelligence and Interactive Digital Entertainment (AIIDE-16), AAAI acts only in the capacity of agent for the Suppliers that are the providers of the service. Because AAAI has no control over the personnel, equipment or operations or providers of accommodations or other services included as part of the AIIDE-16 program, AAAI assumes no responsibility for and will not be liable for any personal delay, inconveniences or other damage suffered by conference participants which may arise by reason of (1) any wrongful or negligent acts or omissions on the part of any Supplier or its employees, (2) any defect in or failure of any vehicle, equipment or instrumentality owned, operated or otherwise used by any Supplier, or (3) any wrongful or negligent acts or omissions on the part of any other party not under the control, direct or otherwise, of AAAI.